What is Devizes Opendoors?
It is a charity that has been set up to help people in the Devizes Community Area to find solutions to homelessness; to offer support to local people when they are homeless or at risk of becoming homeless and to benefit local individuals in need, including the marginalised and vulnerable.
Opendoors exists 100% for the benefit of others, in particular those who are homeless or at risk of becoming so.
For the last few years it has provided three cooked meals a week at St. John's Parish Rooms, Long Street and there are about 15 – 20 people there at most sessions. Along with the good food and company there is the chance of a shower and a few other things (see Opening Times)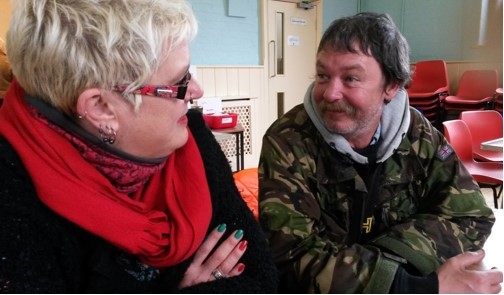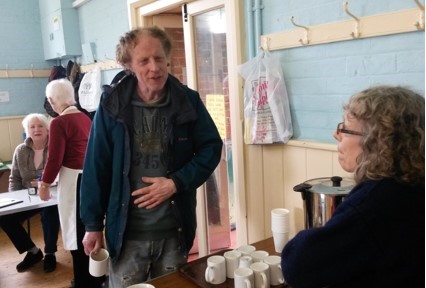 The guests are a mixture of rough sleepers, those sleeping in sheds, vans and old boats, sofa surfers and those with their own homes but with issues that can make their tenancies vulnerable.
The team has one paid part-time coordinator and about 50 volunteers. Together they prepare the food and the hall, welcome the guests and chat, serve meals and discuss issues in one-to-one conversations. Concerns that get followed up include health (mental and physical) issues, alcohol and drug dependency, criminal activity, financial matters and of course housing issues.
Devizes Opendoors Annual Sponsored Sleepout 2018
Registration is now open for this year's sponsored sleepout!
Join our annual sponsored sleep-out
8pm Saturday 1st December to 8am Sunday 2nd at St. Mary's Church, New Park Street, Devizes
You can use the online registration form to register for the event. If you need to call us - 01380 722560 or 07970 914309.
You must have registered in advance, you cannot just turn up on the night. Registration closes on Tuesday 27th November 2018.
---
Thinking of Volunteering with Opendoors?
Volunteers Week: Jess Foord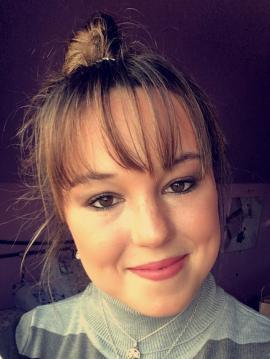 If you are considering volunteering with us, but would like to know what it is like, take a look at what student Jess Foord had to say:
Student Jess Foord admits she was daunted by the prospect of volunteering at homeless charity Opendoors in Devizes, but six months on she enjoys it so much she never wants to leave.
Jess, who is due to start a Master's degree in music therapy later this year, wanted to do some volunteering and came across Opendoors online.
"I was quite daunted when I first went in," she said, "but the other volunteers are so welcoming and the guests at Opendoors are so nice and friendly. They go against every stereotype, they are not scary they are just people that need help and to me they are equals." She works every Wednesday morning at the charity's shelter in Devizes, mostly on the reception desk greeting guests when they arrive. She also organises the clothing store where guests can get clean clothes including underwear, jumpers and sleeping bags. Sometimes she also helps in the kitchen, serving hot breakfasts.
"It can be very busy," she said, "when the weather is good it can be quiet because the guests are out and about, but when the weather is grotty we can get about 30 people in. They arrive in dribs and drabs, but it can be quite hectic." She enjoys getting to know the guests and finds that understanding the reasons they have for sleeping rough is the key to understanding them. "Once you get to know their story you get to understand them more and you understand more about what makes someone decide to become homeless," she said.
"When you see how giving someone a pair of shoes or a jumper puts a smile on their face it is amazing and when you remember their name you see how much pleasure they get from that. When they first arrive, if you remember a problem they told you about last time and you ask how they are getting on with it, their face lights up because you have remembered them. That is very rewarding." She said she has no regrets about signing up and would urge anyone to do what she has. "It has been an amazing experience for me. I just love it here and when it is time to go home I just want to stay forever," she said.
"When I leave here I am in a happy mood, it is not depressing at all. If you do something that helps someone you feel very fulfilled. If anyone was thinking about any kind of volunteering I'd say "do it, you've got nothing to lose. If you can give up bits of your time you can really help a charity and you will get so much out of it."
The Wiltshire Community Foundation has supported Opendoors Devizes with funding. Volunteers Week, which ran until June 7, celebrates the work and dedication of the millions of people who give up their time to help others. Hundreds of events will be taking place across the country to mark Volunteers' Week. The annual campaign, which was established in 1984, recognises the contribution volunteers make to our communities every day.
If you would like to find out more about volunteering with us, please get in touch by emailing This email address is being protected from spambots. You need JavaScript enabled to view it..
---
Night Shelter Update
Opendoors would like to be able to offer the possibility of overnight accommodation for the coldest part of the year, to those would might otherwise be sleeping rough here in Devizes. However, finding a venue to act as an emergency shelter is proving harder than first imagined. The place needs to be suitably equipped, scarcely used by others and acceptable to those living in the area. There is a premise currently being considered. The likelihood of shelters in Trowbridge and Salisbury are looking more certain. Opendoors might set up a transport scheme over the coming winter to get homeless people to these shelters, rather like the Link Scheme gets people to hospitals in Bath or Salisbury.
Opendoors wants to work with local people and, through this, increase the general level of understanding of what Opendoors is and how it helps. It is often only when people step outside of their own comfort zones and into a different environment, that they discover that many of their assumptions are questionable and most of their concerns can actually be addressed. Opendoors invite you to consider joining them in their annual sponsored sleepout at St. Mary's Church, New Park Street. This year it will take place on Saturday night 1st December. If you would like to take part, please see the information above.