What is Devizes Opendoors?
It is a charity that has been set up to help people in the Devizes Community Area to find solutions to homelessness; to offer support to local people when they are homeless or at risk of becoming homeless and to benefit local individuals in need, including the marginalised and vulnerable.
Opendoors exists 100% for the benefit of others, in particular those who are homeless or at risk of becoming so.
For the last few years it has provided three cooked meals a week at St. John's Parish Rooms, Long Street and there are about 15 – 20 people there at most sessions. Along with the good food and company there is the chance of a shower and a few other things (see Opening Times)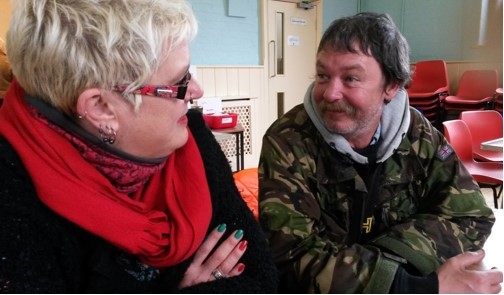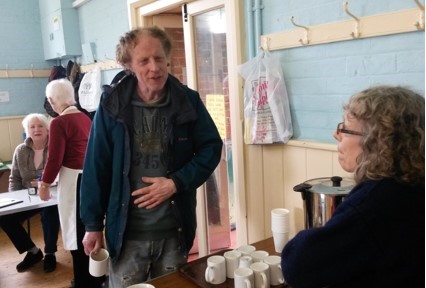 The guests are a mixture of rough sleepers, those sleeping in sheds, vans and old boats, sofa surfers and those with their own homes but with issues that can make their tenancies vulnerable.
The team has two paid staff members, a coordinator and a deputy coordinator, and about 50 volunteers on a rota with between 7 - 9 on per session. Together they prepare the food and the hall, welcome the guests and chat, serve meals and discuss issues in one-to-one conversations. Concerns that get followed up include health (mental and physical) issues, alcohol and drug dependency, criminal activity, financial matters and of course housing issues.
Devizes Opendoors Annual General Meeting (AGM)
Thurs 25 April 7.00 for 7.30pm St. Andrew's Church Hall, Long Street, Devizes
Find out more about us; there will be displays of what we have been doing this past year:
The Drop In sessions we run three times a week with cooked meals at St. John's Parish Room
The extra Drop In session now running upstairs at St. Andrew's Church
Our new volunteer training programme
The befriending scheme we have developed
The supported housing scheme we have been working towards
The winter night shelter we have set down detailed plans for
There will also be information about the support we have had from a variety of local businesses, community groups and churches.
Email: This email address is being protected from spambots. You need JavaScript enabled to view it. for more information.
---
Devizes Opendoors Quiz Night
If you love a good quiz night then put this date in your diary!
Saturday 18th May 2019, from 19:00 to 22:00.
Get together with family or friends and enter a team of 4 or 6. Tickets are £10 per person to include a light cold supper (vegetarian option available) and first drink (wine or non-alcoholic). More drinks available to purchase throughout the evening. There will also be a raffle and music. The event will be held at the Nursteed Community Centre.
So, what are you waiting for! We have a maximum of 60 tickets and you can find out where to get your hands on them by emailing: This email address is being protected from spambots. You need JavaScript enabled to view it.
---
Clothing Donations
We are always very grateful for your support and kind donations. We are often asked what we will accept. We are happy to take:
Serviceable, clean, men's and women's clothes and underwear.
Shoes, boots and trainers, especially in larger men's sizes.
Sleeping bags and clean pillows.
We do not need duvets at the moment.
Please do get in touch here or on our Facebook page if you would like to donate any items.
---
Contact Details
If you are homeless, know someone who is, or concerned about someone at risk of becoming homeless we might be able to help. Please call: 07493 825258
If you are interested in volunteeering with us please email: This email address is being protected from spambots. You need JavaScript enabled to view it.
You might also like to take a look at our Volunteer section and download the current Volunteer Newsletter.
Any other enquiries? Please email: This email address is being protected from spambots. You need JavaScript enabled to view it. or go to our Contact Page.