What is Devizes Opendoors?
It is a charity that has been set up to help people in the Devizes Community Area to find solutions to homelessness; to offer support to local people when they are homeless or at risk of becoming homeless and to benefit local individuals in need, including the marginalised and vulnerable.
Opendoors exists 100% for the benefit of others, in particular those who are homeless or at risk of becoming so. For the last few years it has provided three cooked meals a week at St. John's Parish Rooms, Long Street and there are about 15 – 20 people there at most sessions. Along with the good food and company there is the chance of a shower and a few other things (see Opening Times).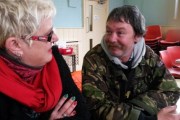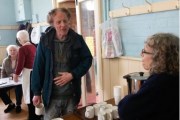 The guests are a mixture of rough sleepers, those sleeping in sheds, vans and old boats, sofa surfers and those with their own homes but with issues that can make their tenancies vulnerable.
The team has two paid staff, a coordinator and a deputy coordinator, and over 50 volunteers on a rota with 7 - 9 on per session. Together they prepare the food and the hall, welcome the guests and chat, serve meals and discuss issues in one-to-one conversations. Concerns that get followed up include health (mental and physical) issues, alcohol and drug dependency, criminal activity, financial matters and of course, housing issues.
Like to find out more about? Click to download our Summer 2019 Volunteer Newsletter.

To read about Devizes Opendoors AGM please click here.
---
Thanks Goes To...
A big THANK YOU to Wiltshire Wildlife Trust for their recent kind donation of beef.
This will be used to produce some delicious meals for our guests!
Click here to read more about our generous supporters...
---
A Date for Your Diary -
Postponed
Due to the wet weather forecast this will now be held the following Saturday the 27th July - same place and time.
This coming Saturday the 20th July will be our volunteer celebration in Hillworth Park, from 1pm onwards.
All volunteers are welcome. Please bring a plate of food to share and something to sit on! This celebration coincides with the Sing Alive Choir's appearance in the park, where they will be presenting us with donations from their teas and coffees.
Later, in the evening, and also supporting Devizes Opendoors will be the concert by the Devizes Good Afternoon Choir. See below for more details:
---
Contact Details
If you are homeless, know someone who is, or concerned about someone at risk of becoming homeless we might be able to help. Please call: 07493 825258
To speak to a member of the team during our regular opening times please call: 07722096046
If you are interested in volunteeering with us please email: This email address is being protected from spambots. You need JavaScript enabled to view it.. You might also like to take a look at our Volunteer section, where you can find more information and download the latest Volunteer Newsletter.
Any other enquiries? Please email: This email address is being protected from spambots. You need JavaScript enabled to view it. or go to our Contact Page.