What is Devizes Opendoors?
It is a charity that has been set up to help people in the Devizes Community Area to find solutions to homelessness; to offer support to local people when they are homeless or at risk of becoming homeless and to benefit local individuals in need, including the marginalised and vulnerable.
Opendoors exists 100% for the benefit of others, in particular those who are homeless or at risk of becoming so. For the last few years it has provided three cooked meals a week at St. John's Parish Rooms, Long Street and there are about 15 – 20 people there at most sessions. Along with the good food and company there is the chance of a shower and a few other things (see Opening Times).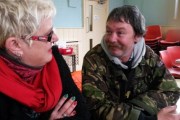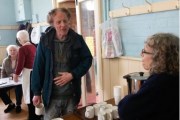 The guests are a mixture of rough sleepers, those sleeping in sheds, vans and old boats, sofa surfers and those with their own homes but with issues that can make their tenancies vulnerable.
The team has two paid staff, a coordinator and a deputy coordinator, and over 50 volunteers on a rota with 7 - 9 on per session. Together they prepare the food and the hall, welcome the guests and chat, serve meals and discuss issues in one-to-one conversations. Concerns that get followed up include health (mental and physical) issues, alcohol and drug dependency, criminal activity, financial matters and of course, housing issues.
Like to find out more about? Click to download our Summer 2019 Volunteer Newsletter.

To read about Devizes Opendoors AGM please click here.
---
Devizes Food and Drink Festival
We have a stall at the food and drink festival in the Market Place on Saturday September 28th. There will be a team of volunteers, staff and trustees on hand to explain how we support our guests with hot meals, and how we use the generous food donations from local shops and supermarkets. Come along and say hi!
---
Thanks Yous!
A huge THANK YOU to Steve Clements and Alan Sharp for raising £1200 for us by walking the 87 miles from Ivanhoe Beacon to The Sanctuary, along the Ridgeway in five days. A remarkable achievement - well done! This donation amounts to a very significant contribution towards covering our costs. Picture shows Steve handing over the cheque to Deputy Coordinator Angie and Volunteer Cathy at one of our regular sessions.
---
Volunteer Opportunity
Be a Devizes Opendoors Befriender
Give a homeless person a hand up - not a handout
This autumn we are looking for people who can empathise and encourage.
We provide full training and you will join a supportive team of volunteer Befrienders.
Please click here to find out more, or contact John Saunders:
This email address is being protected from spambots. You need JavaScript enabled to view it.
07828 041152
---
Contact Details
If you are homeless, know someone who is, or concerned about someone at risk of becoming homeless we might be able to help. Please call: 07493 825258
To speak to a member of the team during our regular opening times please call: 07722 096046
If you are interested in volunteeering with us please email: This email address is being protected from spambots. You need JavaScript enabled to view it.. You might also like to take a look at our Volunteer section, where you can find more information or download our Summer 2019 Volunteer Newsletter.
Any other enquiries? Please email: This email address is being protected from spambots. You need JavaScript enabled to view it. or go to our Contact Page.