Our response to the Coronavirus (Covid 19)
Our four sessions per week have become three. These take place at the usual times but not the usual place. The Wharf car park, not at St. John's Parish Rooms, is where the guests come to. We have stuck with our usual days: Mondays, Wednesdays and Fridays but are now operating a Delivery / Pick Up Service and it is just for homeless people. This new scheme started on 3rd April and is set to continue indefinitely. In the first week, the average attendance was five.
Each session runs like this: one person cooks on their own in St. John's kitchen. Another delivers the hot meals and other food supplies to the Wharf car park, Another helps with the distribution of the food, laundry tickets and post and also helps to maintain the 2 metre social distancing rule. Foodbank referral forms are also made available. Conversations about clothing, benefits and housing needs take place. Turning Point staff also attend from time to time.
Volunteers who are prepared to be involved in this way have already been contacted but we are also looking for some new volunteers. The scheme will carry on as long as it meets real needs. If more people become homeless (for whatever reason) they could 'replace' those who have recently moved on to better things.
We will continue to keep the Rough Sleepers team at County Hall informed of those we know who are rough sleeping. County will continue to follow these up and hopefully provide suitable, if temporary, accommodation, especially in the case of those with underlying health issues (all of them?).
Please text or phone 07828 041152 or email This email address is being protected from spambots. You need JavaScript enabled to view it. if you think you can help.
---
What is Devizes Opendoors?
It is a charity that has been set up to help people in the Devizes Community Area to find solutions to homelessness; to offer support to local people when they are homeless or at risk of becoming homeless and to benefit local individuals in need, including the marginalised and vulnerable.
Opendoors exists 100% for the benefit of others, in particular those who are homeless or at risk of becoming so. For the last few years it has provided three cooked meals a week at St. John's Parish Rooms, Long Street and there are about 15 – 20 people there at most sessions. Along with the good food and company there is the chance of a shower and a few other things (see Opening Times).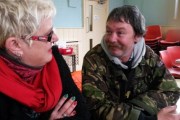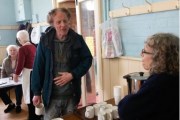 The guests are a mixture of rough sleepers, those sleeping in sheds, vans and old boats, sofa surfers and those with their own homes but with issues that can make their tenancies vulnerable.
The team has two paid staff, a coordinator and a deputy coordinator, and over 50 volunteers on a rota with 7 - 9 on per session. Together they prepare the food and the hall, welcome the guests and chat, serve meals and discuss issues in one-to-one conversations. Concerns that get followed up include health (mental and physical) issues, alcohol and drug dependency, criminal activity, financial matters and of course, housing issues.
Like to find out more about? Click to download our Spring 2020 Volunteer Newsletter.

A series of articles about those who access Opendoors services, and those who provide them.
---
Thank You
In these extremely challenging times we have some heartfelt thank yous to say to some wonderful local people, organisations and communities.
Aaron James, kitchen manager from the Crown Pub for donating food and cooking takeaway breakfasts every Wednesday.
Devizes Food and Drink Festival for their donation of £300.
Devizes Lions for recently granting us £500.
Jeannette von Berg for her very generous donations of food and drinks for our guests, and PPE for staff and volunteers.
Damion Godwin from Devizes Running Club for the Easter Eggs, which went down very well indeed!
This week we want to thank the good people of Seend for responding extremely generously with donations of food and items for our food parcels, which go to some of the most vulnerable of our guests in Devizes. Special mentions to Jenny Dalton, one of our volunteers who coordinated this, her friend Annie Moss who came along on Friday evening to help her cook the evening takeaway meal, and local chef Eric Lepine of Silkwise Catering who made some superb sausages for them to cook. We are also very grateful to both the Barge Inn at Seend and the Hourglass in Devizes for donating us their surplus stocks of snacks. All of these will be put to very good use. A great big THANK YOU to all of you!
Be a Devizes Opendoors Befriender
Give a homeless person a hand up - not a handout
This autumn we are looking for people who can empathise and encourage.
We provide full training and you will join a supportive team of volunteer Befrienders.
Please click here to find out more, or contact John Saunders:
This email address is being protected from spambots. You need JavaScript enabled to view it.
07828 041152
---
Contact Details
If you are homeless, know someone who is, or concerned about someone at risk of becoming homeless we might be able to help. Please call: 07493 825258
To speak to a member of the team during our regular opening times please call: 07722 096046
If you are interested in volunteeering with us please email: This email address is being protected from spambots. You need JavaScript enabled to view it.. You might also like to take a look at our Volunteer section, where you can find more information or download our Spring 2020 Volunteer Newsletter.

Any other enquiries? Please email: This email address is being protected from spambots. You need JavaScript enabled to view it. or go to our Contact Page.
---