What is Devizes Opendoors?
It is a charity that has been set up to help people in the Devizes Community Area to find solutions to homelessness; to offer support to local people when they are homeless or at risk of becoming homeless and to benefit local individuals in need, including the marginalised and vulnerable.
Opendoors exists 100% for the benefit of others, in particular those who are homeless or at risk of becoming so.
For the last few years it has provided three cooked meals a week at St. John's Parish Rooms, Long Street and there are about 15 – 20 people there at most sessions. Along with the good food and company there is the chance of a shower and a few other things (see Opening Times)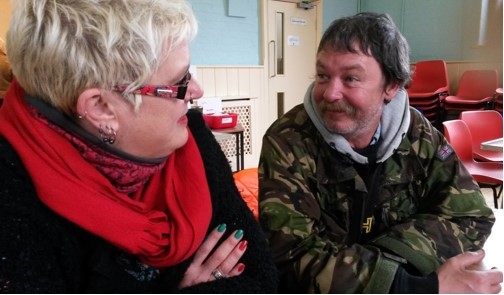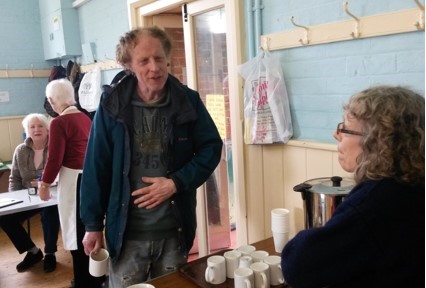 The guests are a mixture of rough sleepers, those sleeping in sheds, vans and old boats, sofa surfers and those with their own homes but with issues that can make their tenancies vulnerable.
The team has one paid part-time coordinator and about 50 volunteers. Together they prepare the food and the hall, welcome the guests and chat, serve meals and discuss issues in one-to-one conversations. Concerns that get followed up include health (mental and physical) issues, alcohol and drug dependency, criminal activity, financial matters and of course housing issues.
This is a list of companies, organisations, groups or individuals who have made contributions either in cash or in kind to Devizes Opendoors
ADVANCED NOTICE
Annual General Meeting
7.30pm Wed 25th April Cheese Hall, Devizes Town Hall.
FEBRUARY 2018
What a result! Our Jumble Sale on 10th February raised £449. Thanks to all who contributed, sorted and sold items of clothing, bric-a-brac and homemade cakes.
Planning is about to get underway for a befriending scheme we are calling, Trinks (Three-way Links). For an idea of how this might work please click on the word, Trinks. There is a meeting at 10am Tuesday 20th February. Please get in touch via the Contact Us tab on the Menu Bar if you would like to get involved.
We have started putting a plan together to provide a Night Shelter for rough sleepers next winter. The second planning meeting is at 2pm Tuesday 27th February. Please get in touch via the Contact Us tab on the Menu Bar if you would like to get involved.
And we are beginning to put a plan together to open up a Hostel for the homeless in Devizes this time next year. The trustees are in detailed conversations with a national housing trust called Green Pastures.
SPONSORED SLEEP OUT A BIG SUCCESS
A group of adults and children recently got an idea of what it must be like to be homeless at this time of year. They took part in the Annual Sponsored Sleep Out at St. Mary's Church, Devizes over the week-end 2nd/3rd December. There were seventeen in the group, their ages ranged from 7 to 70 and they came prepared for a cold night. Before settling down, many spent time crafting Christmas cards and a lot took up the challenge of creating structures from newspaper (that could support a raw egg at the great height!)
At about 11 o'clock, after soup or hot chocolate, people started bedding down. Most chose to sleep outside in the church yard. Others took the more comfortable option and settled down in the church itself. It turned out to be an undisturbed night for many, but some did find it difficult to sleep because of the noise of traffic and the uncertainty of who might be about.
At about 7 o'clock people woke to the smell of cooked bacon and the realisation that a reporter from BBC Radio Wiltshire had arrived to ask them about the experience. Several said that it had had quite a sobering effect on them and they had now got a lot more sympathy with those who are sleeping rough night after night, without a bed to go home to.
Sally Rhodes, who helped organise the Sleep Out said, "What a great privilege to be involved with Opendoors, seeing first-hand the support and enthusiasm from volunteers. Our supporters and our sponsors are amazing and have made this year's sleep out a real a success".
The official government annual rough sleeping statistics were published yesterday (25.01.17) following the count which took place in November 2016.
The official definition of the term "rough sleeper" used for the purpose of collecting data, is: "People sleeping, about to bed down (sitting on/in or standing next to their bedding) or actually bedded down in the open air (such as on the streets, in tents, doorways, parks, bus shelters or encampments). People in buildings or other places not designed for habitation (such as stairwells, barns, sheds, car parks, cars, derelict boats, stations, or "bashes").
There are two methods in which this data can be collated – an estimated method and an actual physical count. The former involves specialist agencies, who routinely engage with rough sleepers, submitting information to the local authority based upon self-declared accommodation status. This information is an accurate figure due to the very nature of the relationships established between the agencies and the service users during the months leading up the night of the count.
The actual method of counting is impossible to be conducted due to the rural nature of a county like Wiltshire. In this county rough sleepers are not visible in the same way that they are in the larger towns. Rough sleepers will do whatever they can to remain safe on the streets and therefore they will be hidden away in areas that are not frequented by the public at night. This has meant that it is virtually impossible to conduct an actual count due to the fact that it is not feasible to go traipsing around woods, fields, laybys etc in the middle of the night trying to find someone sleeping in a tent or car.
Both methods of counting, in the north of the county, took place on the night in November with the two specialist agencies, Doorway and Opendoor, carrying out the estimated method and the Local Authority carrying out the actual count on foot in the two town centres of Chippenham and Devizes. Subsequently, there were shown to be significant discrepancies between the two figures with the actual method producing lower results.
Unfortunately, Wiltshire Council opted to submit the lower figures to central government despite our two organisations raising concerns regarding the validity of the statistics.
Specifically we raised concerns regarding the following:
The narrow definition of the term 'rough sleeper' excludes "people in hostels or shelters, people in campsites or other sites used for recreational purposes or organised protest, squatters or travellers". Because the definition includes people in derelict buildings, both Doorway and Opendoor included several rough sleepers who were known to be sleeping in buildings which met this criteria. However, the council redefined those individuals as "squatters" meaning they were subsequently eliminated from the final figures.

A number of rough sleepers were known to be sleeping rough in rural areas which weren't visited by council officials on the night of the count and were thus eliminated from the submitted figure.

Several of the Chippenham based long term rough sleepers moved across the county boundary into Bath the week before the count and were not included in the Wiltshire figures or in the Bath figures since they were not yet engaging with the homelessness services in the neighbouring city. Two long term Devizes rough sleepers also moved out of the county to other Local Authorities the week before the night of the count and possibly were also eliminated from the national figures.
In addition we are raising general concerns regarding the following factors:
Rough sleepers often alternate between staying out on the streets and sofa surfing depending on whether they can access accommodation with friends or family. It is therefore only a 50/50 chance as to whether they can be recorded as rough sleeping on any given night.

Due to both the rural nature of the county and the chaotic lifestyles of those living on the streets, people often do not regularly engage with specialist services in the main towns. Therefore, it is impossible to produce an actual figure on just one night of the year. Very often our rough sleepers will also disappear for a period of time before once again re-engaging with our services.

Specialist support services only exist in three of Wiltshire's towns, Chippenham, Devizes and Trowbridge in addition to the main service located in the city of Salisbury. Other large towns such as Corsham, Calne, Melksham and all the smaller villages, are not able to provide estimated or actual figures for the night of the count due to the absence of any specialist organisation. We know that there are people sleeping rough throughout the county who are not engaged with daycentres and therefore excluded from the annual statistics.
On a positive note, both our organisations worked very closely with Wiltshire Council and the two hostels in the county, in the weeks leading up the day of the count, in order to successfully accommodate a number of rough sleepers and we will continue to do so. A newly appointed outreach worker has also recently been recruited by the council to help facilitate inter-organisational working relationships and positive outcomes for supporting rough sleepers in the county.
Whilst the government and local authorities produce annual statistics it is worth remembering that behind every one of those figures is an actual human being. At both Doorway and Opendoor, we regularly hear heartbreaking accounts of the complex stories leading up to someone's current situation. We witness first hand the effects of the devastation, the frustration and the desperation caused by the inadequacies of a system which routinely sets people up to fail as they attempt to navigate the way out of homelessness.
You are here:  

Devizes Opendoors