Changes to our response to the Coronavirus (Covid 19)
Our four sessions per week remain at three. These take place at the usual times and we have now returned to serving our guests inside St. John's Parish Rooms. However, at the moment we are only serving takeaway hot food, and other food items and offering clothing, primarily for rough sleepers. There is a time available in the last half hour of each session for other vulnerable guests to attend. This new scheme started on 2nd October and will run in this format for the immediate future. We have stuck with our usual days: Mondays, Wednesdays and Fridays.
Each session runs like this: two people cook on their own in St. John's kitchen. It is then taken into the hall, where other staff and volunteers help with the distribution of the food, laundry tickets and post and also help to maintain the 2 metre social distancing rule. Foodbank referral forms are also made available. Conversations about clothing, benefits and housing needs take place. Turning Point staff also attend every Wednesday, with their van being parked in the Devizes Museum car park..
Volunteers who are prepared to be involved in this way have already been contacted but we are also looking for some new volunteers. If more people become homeless (for whatever reason) they could 'replace' those who have recently moved on to better things.
We will continue to keep the Rough Sleepers team at County Hall informed of those we know who are rough sleeping. County will continue to follow these up and hopefully provide suitable, if temporary, accommodation, especially in the case of those with underlying health issues (all of them?).
Please text or phone 07828 041152 or email This email address is being protected from spambots. You need JavaScript enabled to view it. if you think you can help.
What is Devizes Opendoors?
It is a charity that has been set up to help people in the Devizes Community Area to find solutions to homelessness; to offer support to local people when they are homeless or at risk of becoming homeless and to benefit local individuals in need, including the marginalised and vulnerable.
Opendoors exists 100% for the benefit of others, in particular those who are homeless or at risk of becoming so. For the last few years it has provided three cooked meals a week at St. John's Parish Rooms, Long Street and there are about 15 – 20 people there at most sessions. Along with the good food and company there is the chance of a shower and a few other things (see Opening Times).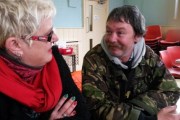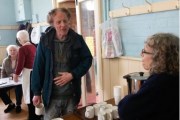 The guests are a mixture of rough sleepers, those sleeping in sheds, vans and old boats, sofa surfers and those with their own homes but with issues that can make their tenancies vulnerable.
The team has two paid staff, a coordinator and a deputy coordinator, and over 50 volunteers on a rota with 7 - 9 on per session. Together they prepare the food and the hall, welcome the guests and chat, serve meals and discuss issues in one-to-one conversations. Concerns that get followed up include health (mental and physical) issues, alcohol and drug dependency, criminal activity, financial matters and of course, housing issues.
Like to find out more about? Click to download our Autumn 2020 Volunteer Newsletter.

A series of articles about those who access Opendoors services, and those who provide them.
---
A big THANK YOU!
Goes to Nicola Sage for organising the Boules with your Bubble event which raised more than £130 for us. Thanks again Nicola!
---
The official government annual rough sleeping statistics were published yesterday (25.01.17) following the count which took place in November 2016.
The official definition of the term "rough sleeper" used for the purpose of collecting data, is: "People sleeping, about to bed down (sitting on/in or standing next to their bedding) or actually bedded down in the open air (such as on the streets, in tents, doorways, parks, bus shelters or encampments). People in buildings or other places not designed for habitation (such as stairwells, barns, sheds, car parks, cars, derelict boats, stations, or "bashes").
There are two methods in which this data can be collated – an estimated method and an actual physical count. The former involves specialist agencies, who routinely engage with rough sleepers, submitting information to the local authority based upon self-declared accommodation status. This information is an accurate figure due to the very nature of the relationships established between the agencies and the service users during the months leading up the night of the count.
The actual method of counting is impossible to be conducted due to the rural nature of a county like Wiltshire. In this county rough sleepers are not visible in the same way that they are in the larger towns. Rough sleepers will do whatever they can to remain safe on the streets and therefore they will be hidden away in areas that are not frequented by the public at night. This has meant that it is virtually impossible to conduct an actual count due to the fact that it is not feasible to go traipsing around woods, fields, laybys etc in the middle of the night trying to find someone sleeping in a tent or car.
Both methods of counting, in the north of the county, took place on the night in November with the two specialist agencies, Doorway and Opendoor, carrying out the estimated method and the Local Authority carrying out the actual count on foot in the two town centres of Chippenham and Devizes. Subsequently, there were shown to be significant discrepancies between the two figures with the actual method producing lower results.
Unfortunately, Wiltshire Council opted to submit the lower figures to central government despite our two organisations raising concerns regarding the validity of the statistics.
Specifically we raised concerns regarding the following:
The narrow definition of the term 'rough sleeper' excludes "people in hostels or shelters, people in campsites or other sites used for recreational purposes or organised protest, squatters or travellers". Because the definition includes people in derelict buildings, both Doorway and Opendoor included several rough sleepers who were known to be sleeping in buildings which met this criteria. However, the council redefined those individuals as "squatters" meaning they were subsequently eliminated from the final figures.
A number of rough sleepers were known to be sleeping rough in rural areas which weren't visited by council officials on the night of the count and were thus eliminated from the submitted figure.
Several of the Chippenham based long term rough sleepers moved across the county boundary into Bath the week before the count and were not included in the Wiltshire figures or in the Bath figures since they were not yet engaging with the homelessness services in the neighbouring city. Two long term Devizes rough sleepers also moved out of the county to other Local Authorities the week before the night of the count and possibly were also eliminated from the national figures.
In addition we are raising general concerns regarding the following factors:
Rough sleepers often alternate between staying out on the streets and sofa surfing depending on whether they can access accommodation with friends or family. It is therefore only a 50/50 chance as to whether they can be recorded as rough sleeping on any given night.
Due to both the rural nature of the county and the chaotic lifestyles of those living on the streets, people often do not regularly engage with specialist services in the main towns. Therefore, it is impossible to produce an actual figure on just one night of the year. Very often our rough sleepers will also disappear for a period of time before once again re-engaging with our services.
Specialist support services only exist in three of Wiltshire's towns, Chippenham, Devizes and Trowbridge in addition to the main service located in the city of Salisbury. Other large towns such as Corsham, Calne, Melksham and all the smaller villages, are not able to provide estimated or actual figures for the night of the count due to the absence of any specialist organisation. We know that there are people sleeping rough throughout the county who are not engaged with daycentres and therefore excluded from the annual statistics.
On a positive note, both our organisations worked very closely with Wiltshire Council and the two hostels in the county, in the weeks leading up the day of the count, in order to successfully accommodate a number of rough sleepers and we will continue to do so. A newly appointed outreach worker has also recently been recruited by the council to help facilitate inter-organisational working relationships and positive outcomes for supporting rough sleepers in the county.
Whilst the government and local authorities produce annual statistics it is worth remembering that behind every one of those figures is an actual human being. At both Doorway and Opendoor, we regularly hear heartbreaking accounts of the complex stories leading up to someone's current situation. We witness first hand the effects of the devastation, the frustration and the desperation caused by the inadequacies of a system which routinely sets people up to fail as they attempt to navigate the way out of homelessness.
Devizes Opendoors is a registered charity supporting local homeless and vulnerable adults. It runs four drop-in sessions a week at St. John's Parish Rooms, Long Street, Devizes, SN10 1NN and cooked meals are served at three of these.
Opendoors' mission is to help people move on in their lives in order to find greater happiness and fulfilment. We are an ambitious charity and plan to develop a range of new services and possibilities over the next months and years.
Our team of friendly and caring volunteers work with guests in a variety of ways and help link people up with specialist agencies that can offer professional advice with housing, drugs and alcohol abuse and financial problems. There is help available to use the phone and laptop, help with bus fares to appointments, access to a clothing store, laundry tickets, a shower and surplus food to take away,
Opendoors wants to appoint a paid Co-ordinator for 10 hours a week on between £11 - £14ph, subject to experience. The person must have a passion for improving the opportunities for disadvantaged adults and have good organisation skills. They will co-ordinate the training and duties of the team of voluntary workers and will have the support of a Deputy Co-ordinator and the Trustees in seeing that all sessions run well.
Please see our website www.devizesopendoors.org.uk for a Job Description and email This email address is being protected from spambots. You need JavaScript enabled to view it. your CV and letter of application by 1st October or post to St John's Parish Office, Long Street, Devizes, SN10 1NN
Be a Devizes Opendoors Befriender
Give a homeless person a hand up - not a handout
This autumn we are looking for people who can empathise and encourage.
We provide full training and you will join a supportive team of volunteer Befrienders.
Please click here to find out more, or contact John Saunders:
This email address is being protected from spambots. You need JavaScript enabled to view it.
07828 041152
---
Contact Details
If you are homeless, know someone who is, or concerned about someone at risk of becoming homeless we might be able to help. Please call: 07493 825258
To speak to a member of the team during our regular opening times please call: 07722 096046
If you are interested in volunteeering with us please email: This email address is being protected from spambots. You need JavaScript enabled to view it.. You might also like to take a look at our Volunteer section, where you can find more information or download our Autumn 2020 Volunteer Newsletter.

Any other enquiries? Please email: This email address is being protected from spambots. You need JavaScript enabled to view it. or go to our Contact Page.
---