Devizes Opendoors
What is Devizes Opendoors?
It is a charity that has been set up to help people in the Devizes Community Area to find solutions to homelessness; to offer support to local people when they are homeless or at risk of becoming homeless and to benefit local individuals in need, including the marginalised and vulnerable.
Opendoors exists 100% for the benefit of others, in particular those who are homeless or at risk of becoming so. For the last few years it has provided three cooked meals a week at St. John's Parish Rooms, Long Street and there are about 15 – 20 people there at most sessions. Along with the good food and company there is the chance of a shower and a few other things (see Opening Times).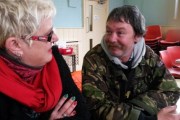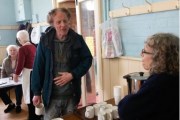 The guests are a mixture of rough sleepers, those sleeping in sheds, vans and old boats, sofa surfers and those with their own homes but with issues that can make their tenancies vulnerable.
The team has two paid staff, a coordinator and a deputy coordinator, and over 50 volunteers on a rota with 7 - 9 on per session. Together they prepare the food and the hall, welcome the guests and chat, serve meals and discuss issues in one-to-one conversations. Concerns that get followed up include health (mental and physical) issues, alcohol and drug dependency, criminal activity, financial matters and of course, housing issues.
Like to find out more about? Click to download our Spring 2019 Volunteer Newsletter. Page 1 / Page 2
To read about Devizes Opendoors AGM please click here.
---
Devizes Community Area
Health and Wellbeing Day 2019
Saturday 15th June - 11am to 3pm - The Small Green - Devizes
"Opendoors will be exhibiting at the Devizes Health and Wellbeing event.
Come along and say hello at our stand!"
---
Devizes Opendoors Quiz Night
Thanks to the dedication of our brilliant volunteer organisers Pat and Pete Taylor, our Open Doors Quiz Night was a really super evening.
Quizmaster Dave Evans led us through several rounds of general and "not so general" knowledge, testing the teams to just the right level.
We also enjoyed some musical interludes and questions courtesy of the very talented Steve Degutis.
Food and drink are always important to feed the brain: we had a wonderful spread of quiches and salad and an array of home made puds, made by our fabulous volunteers.
Many thanks to the Nursteed Centre, Morrisons, Honey Street Café, Total Produce, Dolcipani, Walter Rose, Devizes Books, the many volunteers and well wishers who donated prizes and food and drink to help make the evening a really fun event. The winning team were the all-conquering: "Nice But Dim" and overall we raised £976.92, which is a fantastic boost to our funds.
We are planning a series of fundraising events and activities in the coming months, so watch this space for more. If you want to find out how you could get involved in supporting us please contact: This email address is being protected from spambots. You need JavaScript enabled to view it.
---
Thank You Devizine
A huge thank you goes to Darren Worrow for organising the two music events at the Cellar Bar, which together raised over £200.
---
Thank You
The Sing Alive Choir's event on the 11th May, along with their very generously donated tea and coffee money has resulted in over £400 for Devizes Opendoors. We are so very grateful for their support.
---
Contact Details
If you are homeless, know someone who is, or concerned about someone at risk of becoming homeless we might be able to help. Please call: 07493 825258
To speak to a member of the team during our regular opening times please call: 07722096046
If you are interested in volunteeering with us please email: This email address is being protected from spambots. You need JavaScript enabled to view it.. You might also like to take a look at our Volunteer section, where you can find more information and download the latest Volunteer Newsletter.
Any other enquiries? Please email: This email address is being protected from spambots. You need JavaScript enabled to view it. or go to our Contact Page.
The official government annual rough sleeping statistics were published yesterday (25.01.17) following the count which took place in November 2016.
The official definition of the term "rough sleeper" used for the purpose of collecting data, is: "People sleeping, about to bed down (sitting on/in or standing next to their bedding) or actually bedded down in the open air (such as on the streets, in tents, doorways, parks, bus shelters or encampments). People in buildings or other places not designed for habitation (such as stairwells, barns, sheds, car parks, cars, derelict boats, stations, or "bashes").
There are two methods in which this data can be collated – an estimated method and an actual physical count. The former involves specialist agencies, who routinely engage with rough sleepers, submitting information to the local authority based upon self-declared accommodation status. This information is an accurate figure due to the very nature of the relationships established between the agencies and the service users during the months leading up the night of the count.
The actual method of counting is impossible to be conducted due to the rural nature of a county like Wiltshire. In this county rough sleepers are not visible in the same way that they are in the larger towns. Rough sleepers will do whatever they can to remain safe on the streets and therefore they will be hidden away in areas that are not frequented by the public at night. This has meant that it is virtually impossible to conduct an actual count due to the fact that it is not feasible to go traipsing around woods, fields, laybys etc in the middle of the night trying to find someone sleeping in a tent or car.
Both methods of counting, in the north of the county, took place on the night in November with the two specialist agencies, Doorway and Opendoor, carrying out the estimated method and the Local Authority carrying out the actual count on foot in the two town centres of Chippenham and Devizes. Subsequently, there were shown to be significant discrepancies between the two figures with the actual method producing lower results.
Unfortunately, Wiltshire Council opted to submit the lower figures to central government despite our two organisations raising concerns regarding the validity of the statistics.
Specifically we raised concerns regarding the following:
The narrow definition of the term 'rough sleeper' excludes "people in hostels or shelters, people in campsites or other sites used for recreational purposes or organised protest, squatters or travellers". Because the definition includes people in derelict buildings, both Doorway and Opendoor included several rough sleepers who were known to be sleeping in buildings which met this criteria. However, the council redefined those individuals as "squatters" meaning they were subsequently eliminated from the final figures.
A number of rough sleepers were known to be sleeping rough in rural areas which weren't visited by council officials on the night of the count and were thus eliminated from the submitted figure.
Several of the Chippenham based long term rough sleepers moved across the county boundary into Bath the week before the count and were not included in the Wiltshire figures or in the Bath figures since they were not yet engaging with the homelessness services in the neighbouring city. Two long term Devizes rough sleepers also moved out of the county to other Local Authorities the week before the night of the count and possibly were also eliminated from the national figures.
In addition we are raising general concerns regarding the following factors:
Rough sleepers often alternate between staying out on the streets and sofa surfing depending on whether they can access accommodation with friends or family. It is therefore only a 50/50 chance as to whether they can be recorded as rough sleeping on any given night.
Due to both the rural nature of the county and the chaotic lifestyles of those living on the streets, people often do not regularly engage with specialist services in the main towns. Therefore, it is impossible to produce an actual figure on just one night of the year. Very often our rough sleepers will also disappear for a period of time before once again re-engaging with our services.
Specialist support services only exist in three of Wiltshire's towns, Chippenham, Devizes and Trowbridge in addition to the main service located in the city of Salisbury. Other large towns such as Corsham, Calne, Melksham and all the smaller villages, are not able to provide estimated or actual figures for the night of the count due to the absence of any specialist organisation. We know that there are people sleeping rough throughout the county who are not engaged with daycentres and therefore excluded from the annual statistics.
On a positive note, both our organisations worked very closely with Wiltshire Council and the two hostels in the county, in the weeks leading up the day of the count, in order to successfully accommodate a number of rough sleepers and we will continue to do so. A newly appointed outreach worker has also recently been recruited by the council to help facilitate inter-organisational working relationships and positive outcomes for supporting rough sleepers in the county.
Whilst the government and local authorities produce annual statistics it is worth remembering that behind every one of those figures is an actual human being. At both Doorway and Opendoor, we regularly hear heartbreaking accounts of the complex stories leading up to someone's current situation. We witness first hand the effects of the devastation, the frustration and the desperation caused by the inadequacies of a system which routinely sets people up to fail as they attempt to navigate the way out of homelessness.
Stories from guests, volunteers, trustees and friends of Devizes Opendoors
One of our regular volunteers, Caroline Reid, who is a shift leader and trainer, has been getting to know some of guests and volunteers and in this regular feature on our website we will publish her stories.
First of all, let's get to know Caroline:

Caroline has been a volunteer on the Wednesday shift since January 2017. Despite her accent she is a native of Devizes but spent 40 years living in California, til retirement with her Californian husband, Chris. They have one son and a cat, love movies and their garden.
Shaun's Story
Regular guest Shaun promptly agreed to this interview saying that he'd never been interviewed before! He started drinking at 7 years old, the sensitive and artistic son in a family of sporty types, disconnected from his Dad, who had offered him his first drink. He quickly realized that drink would make life easier with his Dad and brothers. Until, of course, it didn't.
Shaun described himself as a functioning alcoholic from about 11 years old, all through school, through uni, through training and working as an Art Therapist until the point where his addiction made him a danger to himself and to others. There were psychotic episodes, periods of rehab and relapse, a time of homelessness on the streets of Salisbury, and then in September 2017, he showed up at Opendoors. Shaun spent much of the next year depending on the 3 hot meals each week as his main source of food while he continued chronically drinking and abusing various substances, whilst in and out of semi-supported accommodation, hospital and police custody. He said that during that period of instability, Opendoors was a safe place where he knew he would be welcomed, whatever state he was in.
Shaun described how he was incapable of getting himself into rehab, even though he knew that's what he needed. In 2018, Turning Point were exploring funding for residential rehab, but it was taking too long and he had gone through rehab many times before and relapsed. What finally made the difference was a worker at Springer's House making a phone call to his doctor and on this basis he was admitted for a medical detox in a Salisbury hospital. During this 2 1/2 week admission, he went through supervised withdrawal, losing and regaining the use of his legs. Following the detox he moved into Ruth House (a dry house).
Life today is a far cry from a year ago. Shaun lives with a variety of addiction-related health issues, he is a peer mentor with Turning Point, art is again a major part of his life and he is making plans to regain his certification as an Art Therapist. He credits the services and the individuals, including a doctor, who went 'above and beyond' to help him. Volunteering is a way he can give back, "It's a part of my recovery," declared Shaun. "I need to have a social network to continue , as well as ongoing support from specialist services and, of course, my art. It would be really interesting to work with addicts, knowing what I know now."
"I don't see alcohol as a fight, because there's no way I can win that fight, I can't beat it. It's more like being in an abusive relationship: I've left that partner and every day I have to make the decision to just walk away. You lose the sense of who you are when you're that addicted. So I'm a 49-year old man learning how to deal with the difficult, painful and unwanted feelings that we all experience for the first time. Feelings are a part of our contract with life. It's a difficult but sometimes surprising challenge."
A sincere thanks to Shaun for telling his story, and Caroline for recording it. We look forward to more inspirational stories in the future.