We are moving! (4th October)
After many happy years at St. John's Parish Rooms, Long Street we are moving to "our own place". Southbroom Centre is at the 'bottom end' of Victoria Road.
We will be able to
hold sessions when we like,
have office space for staff and volunteers to do the admin at any time in the week
hire the Hall and kitchen out to other community groups to run their sessions and to individuals to book their parties.
There is
a shower there
a kitchen with serving hatch
storage space for food and clothing
computer work spaces for guests
two small offices for staff and volunteers
Before 4th October it needs a lick of paint.
DIY Volunteers needed
Once the builder is out, it's over to us - DIY Volunteers needed
As you would imagine, there are a number of rooms besides the Hall that will need decorating. The suggestion is that Noel provides the materials and that we work in pairs, each pair adopting a room and seeing it through from washing down surfaces to the final lick of paint. A team of four could tackle the Hall itself.
Monday 20th - Thursday 30th September (prepping & painting)
This is our 'window of opportunity' to finish what the builder has started. If we can organise ourselves into five pairs and one team of four that would be fantastic, and each group can agree on the times that suit them best. We will make keys available for each team. Please let Noel know if you are able to help. You could adopt one of the small rooms or join the group working in the Hall itself. If you can find a mate to work with, so much the better, but I am sure we can pair volunteers up as well. We can agree rooms and times to suit you. I imagine two or three sessions per room should do it. We will not decorate the kitchen or two- toilet area at this stage.
Here is a list of the rooms needing some TLC or at least DIY! Please let Noel know you can help by Friday 17th September 2021.
Front office
Hall office
Shower/toilet room
Toilets
Kitchen
Food storeroom.
Clothing cupboards
The Main Hall itself
Friday 1st - Saturday 2nd October (moving furniture, etc.)
These will be the two days when we move all the furniture in. We have one offer of a van so far. I would think a team of 8 of us should manage to move two cupboards, fridge, fridge/freezer, freezer, many boxes of food and many boxes and bundles of clothes, office furniture, etc. Please let me know if you can help with this.
Thanks,
Noel
This email address is being protected from spambots. You need JavaScript enabled to view it.
07768 311584
Guests
We are still open for three sessions a week at St. John's Parish Rooms, Long Street, Devizes, SN10 1NS. The final session there will be on Friday 1st October.
Come and see us if
you don't have a home to go to,

you would appreciate a cooked meal or surplus supermarket food

you don't have somewhere to wash yourself or your clothes

you need help contacting the right people at County Hall about housing problems

you need help contacting drug & alcohol support services
Come between
11.00am - 1.00pm Mondays
9.30am- 11.30am Wednesdays
5.00pm - 6.30pm Fridays
We are operating a one-way circulation system, so please come in the back door, wear a mask, wash your hands or use anti-bac gel. Numbers are limited but you can now eat a meal in the Hall, use the shower and have access to the clothing store. When you leave please go out the front door.
Volunteers
Each session runs like this:
Several people are on duty in the Hall and two or three in the kitchen. The cooked food is served on plates and dishes and collected from the kitchen door. Surplus supermarket food is available on teh table next to the drinks. Clothing, laundry tickets, post and food bank referral forms are also available. Conversations about benefits and housing take place on a one at a time basis in the Hall. Turning Point staff are on hand on Mondays, with their van being parked in the Devizes Museum car park. The County Rough Sleepers team outreach workers come on Wednesdays.
Everyone must wash their hands, wear masks and adher to the 1m social distancing rule. Any guest who needs a conversation can talk to the support worker.
We will continue to keep the Rough Sleepers team at County Hall informed of those who want help with housing. County will continue to follow these up and hopefully provide suitable, temporary accommodation for those who are rough sleeping.
Please text or phone 07828 041152 or email volunteersThis email address is being protected from spambots. You need JavaScript enabled to view it. if you think you can help.
What is Devizes Opendoors?
It is a charity that has been set up to help people in the Devizes Community Area to find solutions to homelessness; to offer support to local people when they are homeless or at risk of becoming homeless and to benefit local individuals in need, including the marginalised and vulnerable.
Opendoors exists 100% for the benefit of others, in particular those who are homeless or at risk of becoming so. For the last few years it has provided three cooked meals a week at St. John's Parish Rooms, Long Street and there are about 15 – 20 people there at most sessions. Along with the good food and company there is the chance of a shower and a few other things (see Opening Times).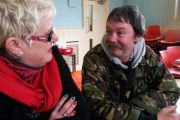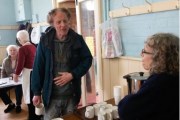 The guests are a mixture of rough sleepers, those sleeping in sheds, vans and old boats, sofa surfers and those with their own homes but with issues that can make their tenancies vulnerable.
The team has two paid staff, a coordinator and a deputy coordinator, and over 50 volunteers on a rota with 7 - 9 on per session. Together they prepare the food and the hall, welcome the guests and chat, serve meals and discuss issues in one-to-one conversations. Concerns that get followed up include health (mental and physical) issues, alcohol and drug dependency, criminal activity, financial matters and of course, housing issues.
A series of articles about those who access Opendoors services, and those who provide them.
---
SMILE!
We have signed up to Amazon Smile, and so we have a favour to ask; if you are doing any online shopping with Amazon and you would like a small percentage of the price to come to us, just follow the link below, and select Devizes Opendoors from the dropdown menu.
Thank you!
---