So what is it like being an Open Doors' volunteer?
This is what Jen had to say:
Q. How long have you been a volunteer?
A. I have been doing this for several years. I started when Sue Kemp was co-ordinating the Project in St John's Parish Rooms.
Q. What do you do?
A. I am part of a fortnightly Wednesday Kitchen team. We usually cook a full English Breakfast, but if we are short staffed we may do sausage and bacon rolls instead. I am the chief egg and mushroom fryer and also heat up the baked beans – quite a responsibility! We usually cook up to 16 full breakfasts, which includes a vegetarian option, and some people may request a bacon and sausage or egg roll to take away, if they haven't time to sit down and eat.
We aim to start serving around 10 am, and it can be a bit hectic when we are trying to get 6 different items of food, plus toast, on to each plate but it always looks very tasty.
Q. What do you like about coming?
A. I enjoy doing something that is making a contribution to the community, and trying to understand more about homelessness, which is now a major problem in Britain.
At home I am not an enthusiastic cook, but breakfast is just about within my skill set and there is a lot of satisfaction to be gained from serving up a colourful and appetising meal. We always manage to have a good laugh while cooking, and it is really good to meet other volunteers and get to know them.
Q. How else are things changing?
A. Guests come and go over time, so there are always new people coming in and the atmosphere has a friendly buzz to it.
The food serving is now much more organised, and guests can help themselves to tea and coffee and cereals while they wait for a cooked breakfast, and they help us by clearing their plates and mugs to a designated area when they have finished.
We now have more volunteers involved with reception, and talking to the guests, which is good.
Many guests will stop and thank us for their breakfast which is something that didn't happen much in the early days, and this is good because we like to know that they have enjoyed their breakfast, and it gives us the incentive to carry on cooking and hopefully getting it right.
---
Thinking of Volunteering with Opendoors?
Volunteers Week: Jess Foord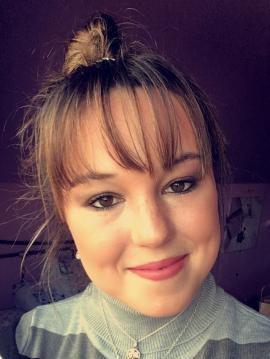 If you are considering volunteering with us, but would like to know what it is like, take a look at what student Jess Foord had to say:
Student Jess Foord admits she was daunted by the prospect of volunteering at homeless charity Opendoors in Devizes, but six months on she enjoys it so much she never wants to leave.
Jess, who is due to start a Master's degree in music therapy later this year, wanted to do some volunteering and came across Opendoors online.
"I was quite daunted when I first went in," she said, "but the other volunteers are so welcoming and the guests at Opendoors are so nice and friendly. They go against every stereotype, they are not scary they are just people that need help and to me they are equals." She works every Wednesday morning at the charity's shelter in Devizes, mostly on the reception desk greeting guests when they arrive. She also organises the clothing store where guests can get clean clothes including underwear, jumpers and sleeping bags. Sometimes she also helps in the kitchen, serving hot breakfasts.
"It can be very busy," she said, "when the weather is good it can be quiet because the guests are out and about, but when the weather is grotty we can get about 30 people in. They arrive in dribs and drabs, but it can be quite hectic." She enjoys getting to know the guests and finds that understanding the reasons they have for sleeping rough is the key to understanding them. "Once you get to know their story you get to understand them more and you understand more about what makes someone decide to become homeless," she said.
"When you see how giving someone a pair of shoes or a jumper puts a smile on their face it is amazing and when you remember their name you see how much pleasure they get from that. When they first arrive, if you remember a problem they told you about last time and you ask how they are getting on with it, their face lights up because you have remembered them. That is very rewarding." She said she has no regrets about signing up and would urge anyone to do what she has. "It has been an amazing experience for me. I just love it here and when it is time to go home I just want to stay forever," she said.
"When I leave here I am in a happy mood, it is not depressing at all. If you do something that helps someone you feel very fulfilled. If anyone was thinking about any kind of volunteering I'd say "do it, you've got nothing to lose. If you can give up bits of your time you can really help a charity and you will get so much out of it."
The Wiltshire Community Foundation has supported Opendoors Devizes with funding. Volunteers Week, which ran until June 7, celebrates the work and dedication of the millions of people who give up their time to help others. Hundreds of events will be taking place across the country to mark Volunteers' Week. The annual campaign, which was established in 1984, recognises the contribution volunteers make to our communities every day.
If you would like to find out more about volunteering with us, please get in touch by emailing This email address is being protected from spambots. You need JavaScript enabled to view it.

You might also like to take a look at our Autumn 2020 Volunteer Newsletter.