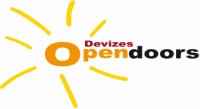 Who are Devizes Opendoors? 
Devizes Opendoors is a charity that has been set up to help people in the Devizes Community Area to find solutions to homelessness; to offer support to local people when they are homeless or at risk of becoming homeless and to benefit local individuals in need, including the marginalised and vulnerable.
Opendoors exists 100% for the benefit of others, in particular those who are homeless or at risk of becoming so. For the last few years it has provided three cooked meals a week at St. John's Parish Rooms, but since October 2021 the sessions are now provided at Southbroom Centre, Victoria Road. There are about 15 – 20 people at most sessions. Along with good food and company, there is the chance of a shower, hot drinks and support from staff and volunteers.
The guests are a mixture of rough sleepers, those sleeping in sheds, vans and old boats, sofa surfers and those with their own homes but with issues that can make their tenancies vulnerable.
The team has three paid staff, a coordinator, a deputy coordinator and a centre administrator. There are nearly 60 volunteers on a rota with 7 - 9 on per session. Together they prepare the food and the hall, welcome the guests and chat, serve meals and discuss issues in one-to-one conversations. Concerns that get followed up include health issues (mental and physical), alcohol and drug dependency, criminal activity and court related matters, financial concerns and, of course, housing issues. Staff and volunteers can also signpost to other agencies that may be able to help if we come across something we can't help with ourselves.